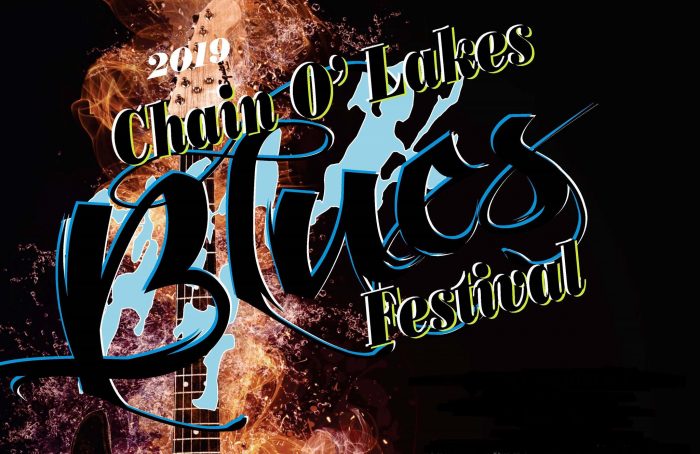 The history of the Indian Crossing Casino will come alive this fall at the Chain O' Lakes Blues Festival slated for October 4th and 5th on the shores of the beautiful Waupaca Chain O' Lakes located in central Wisconsin. The Indian Crossing Casino is a classic/historic Dance Hall venue built in 1925 (not a gambling facility) and is located at E1171 County Road Q, Waupaca, WI.
FRIDAY, OCTOBER 4
7 pm – Jay Stulo Music
9 pm – Reverend Raven & The Chain Smoking Altar Boys – featuring Westside Andy
SATURDAY, OCTOBER 5
2:30 pm – Jonny T-Bird & the MPs & Big Dad (Performing between bands)
3 pm – The Robert Allen Jr. Band
5 pm – Madtown Mannish Boys
7 pm – Ivy Ford Band
9 pm – Toronzo Cannon and The Chicago Way
Tickets: Friday – $20 in advance, $25 at the door; Saturday – $25 in advance, $30 at the door; Weekend Pass – $30 in advance, $35 at the door
Advance tickets available through October 3. Tickets purchased online will be held at "Will Call". Pick up at the Indian Crossing Casino Friday evening or Saturday. Advance tickets can be purchased online at ChainOLakesBluesFestival.com or by calling 715-258-7343.  Advanced Tickets may also be purchased onsite at the Indian Crossing Casino.
Attendees must be at least 21 years of age to attend the festival. For lodging in the Waupaca Area check out: https://waupacamemories.com/stay/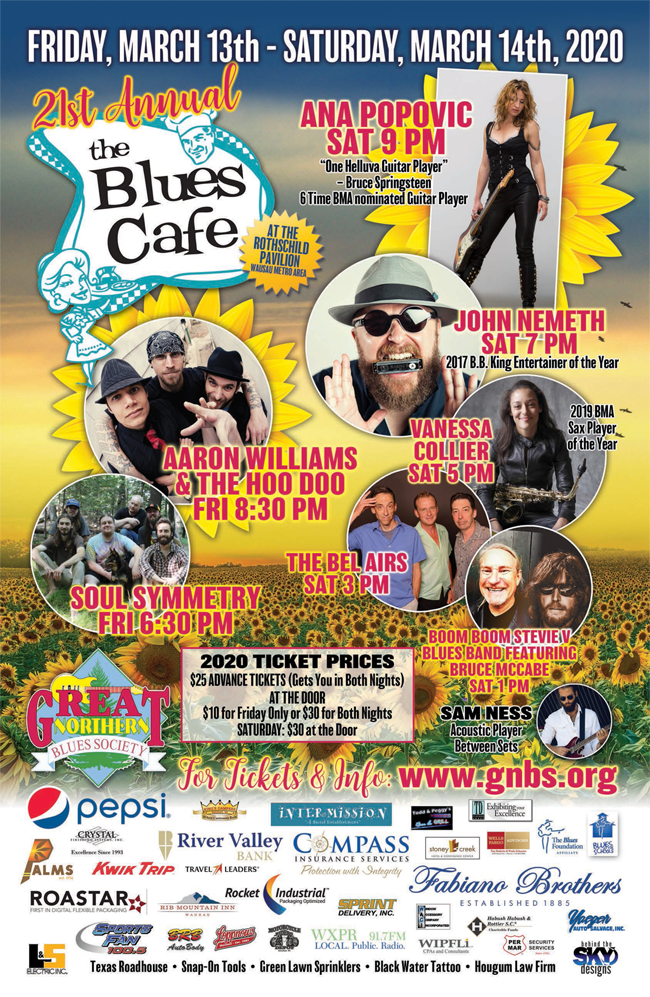 Thanks to all who attended this year's 20th Anniversary Party and Blues Café!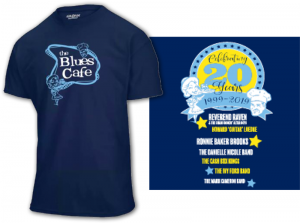 We have a few 20th Anniversary T-shirts left over!

Please supply us with quantities and sizes in the PayPal checkout area. Thanks!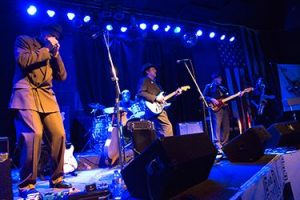 Known as a charismatic front man, soulful guitarist and prolific songwriter, Mark Cameron released seven studio albums prior to the breakout effort "Playing Rough" in 2016. The album charted as high as number 7 nationally and stayed on the charts for nearly 30 weeks. Joined by Scott "Thunder" Lundberg on bass, Dan "the Hitman" Schroeder on drums, Sheri Cameron on Sax and Bill "Killer" Keyes on Harmonica, The Mark Cameron Band "possess that intangible mojo that puts you in a dancin' mood, and gives you that good feeling all over. Sheryl and Don Crow, Nashville Blues Society.
The Mark Cameron Band represented Minnesota at the International Blues Challenge in Memphis in 2017 followed by the release of "Live! at Blues on the Chippewa". The recording was not planned in advance and captures the Blues festival vibe perfectly. "This is a great album…and the fact that it is a live recording makes it all the more amazing." Bill Wilson, Reflections in Blue. This new live album has climbed into the top 20 on the national Blues charts and reached number one for all music genres in Minnesota. The Mark Cameron Band has become a nightclub and Blues festival favorite thanks to Mark's high-energy performance style and a rhythm section that delivers "butt shakin boogie'n Blues from a terrific band." Wolf, Blue Monday Monthly.
Look for a new studio album from Mark Cameron in the late spring of 2019.
"Doesn't matter who you are, or what you've done, we're all the same
On the road to another town, you drive all night and you sleep all day
You give it everything, everything you have, isn't that what the blues is all about?
You might slow down, but Bluesmen don't retire, so there's only one way out."
– Bluesmans Lullaby by Mark Cameron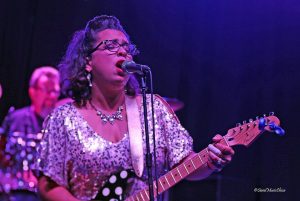 Ivy Ford, singer, musician, entertainer. Waukegan born and raised, at 25 she is quite the up and coming artist of the Chicago blues and live music scene. Ivy Ford started performing live with Kenosha based band The Real Deal, managed by Steve Rainey at 13 and since then continues to nurture her niche and calling to the music. She plays piano, alto saxophone, drums, bass guitar and guitar which are primarily self taught. In late 2012, Ford joined a local blues band which in time evolved into Ivy Ford and The Cadillacs and gained fair amounts of popularity.
Fast forward two years and Ivy Ford has managed to take the Chicago scene by storm. In January,2015 Ivy Ford opened for the legend, Buddy Guy at his club in Chicago and continues to share the stage with Chicago blues hall of famers, J.B. Ritchie, Joe Moss, Toronzo Cannon and Tom Holland. She fronts her very own band and besides obtaining the title of "Chicago's Blues Kitten," performs song selections from not just the blues genres but RnB and soul. Aside from performing every weekend at both private and public event, clubs and venues, she is in the process of recording an unplugged album including originals. Some recent event for Ford include, radio shows on 90.9 WDCB, and In a Nutshell radio show on 98.3 WRLR. She's been apart of Buddy Guys Legends, Artist series and traveled to Minneapolis, MN to perform at Artspace's 2013 Celebration at the Cowle Theater. Ivy Ford has been featured in Buddy Guy's Blues and Music News, Lake County Magazine and Blues Guitar Expert's online forum. To follow or check into Ford's shows and happenings go to www.Facebook.com/IvyFord or Twitter at #MissIvyFord.
Ivy Ford, is one of the leading "youngbloods" of blues and brings a refreshing yet classic face to the music. She handles her cherry red, Epiphone-339 with as much confidence as any of the bluesmen today and can belt out notes to fill a room and serenade a phrase sweeter than sugar in ways that make anyone and everyone tune in to what she has to say. Ivy Ford, always respects the history and tradition of roots and blues music, while presenting it in a fresh, young and trendy way.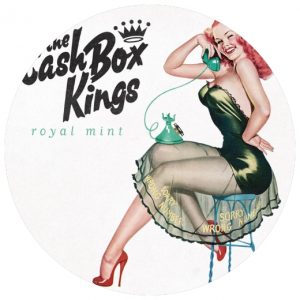 With deep feeling and top-shelf talent, house-rocking blues masters The Cash Box Kings play tough, real deal classic Chicago blues with boundless energy. They also deliver raw, passionate Delta blues, jumping proto-rock 'n' roll, and steamrolling "bluesabilly," their original mix of Chicago blues and Memphis rockabilly. As anyone who has ever been to one of the band's raucous performances will testify, The Cash Box Kings know how to throw a party. They're fueled by the powerhouse harmonica work of Madison, Wisconsin-based songwriter Joe Nosek and the huge, gritty vocals of Chicago bluesman Oscar Wilson. Their original songs range from humorous stories of Internet love to harrowing tales of Chicago's violent gun epidemic. Every song they perform—be it a striking original or a scorching Chess, Sun or Vee-Jay cover—explodes with contemporary authority and radiates old-school authenticity. According to Grammy Award-winning blues legend Charlie Musselwhite, "The Cash Box Kings play with real taste and feel. Not only is it good blues but it's a jumping good time, too! I ain't lyin'!"
Joe Nosek founded The Cash Box Kings in Madison, Wisconsin in 2001 and, since 2007, has co-led the band with the charismatic, larger-than-life vocalist Oscar Wilson. Over 20 years apart in age and coming from vastly different backgrounds, the two form an unlikely pair, combining Wilson's indisputably authentic inner city Chicago blues vocals with Nosek's harmonica, songwriting and singing talents. The music they create is brilliantly displayed on The Cash Box Kings' Alligator Records debut, Royal Mint. According to Wilson, "The Cash Box Kings is a throwback to the golden age of blues with some kickin' fresh young blood. Joe is my best friend in the music world—the band is a marriage made in heaven for both of us." "Oscar is godfather to my oldest son," says Nosek. "We have each other's backs. We're family."
What others are saying about the Cash Box Kings:
"The Cash Box Kings rule the roost! This band has taken old school Chicago blues and brought it jumping and hollering into the 21st century.  I've seen a lot of bands play this style of music, but I gotta say these guys take that old school sound and go somewhere new with it" -Dan Aykroyd
"One of the best blues bands in the land.  Any of these musicians could have played with the great bands of the golden blues era.  Together they keep a sound alive that many thought was no more.  Joe Nosek feels Little Walter and Slim Harpo in the essence of his soul. Singer Oscar Wilson could be right out of [Chicago's famed] Checkerboard Lounge in its glory days. The Cash Box Kings are a dancing and listening pleasure." – Living Blues Magazine
"The Cash Box Kings play with taste and feel and it was faith restoring to know there's guys out there that still know and appreciate real blues."-Blues legend Charlie Musslewhite
"Stylistically the effect of the music parallels coming home from a trip to Maxwell Street with a box of dusty 45s and 78s on labels like Ora-Nelle, Blue Lake, Parrot or Cobra – rough and tumble, meat and potatoes Chicago blues. The Cash Box Kings continue and strengthen their breakout from the Midwestern blues bar circuit to international recognition as recording and performing artists. Notice is duly served that they are ready for inclusion among the illustrious torch bearers for not one but two proud blues traditions [delta and post-war Chicago]. With a deep commitment to those roots and a freshness which has generated nine originals on this CD, the Cash Box Kings are starting to make their own mark."-Dick Shurman, noted blues producer and critic
"The Cash Box Kings are Chicago royalty." -Blues Blast Magazine
"For those questioning whether the blues is still alive . . . here is your answer." -Blues & Co. (France)
"The Cash Box Kings' cast of aces sizzle the hip side of classic Chicago blues with an old delta branding iron.  A prime homage to the blues' rich history with creative, enthusiastic twists." -Hittin' the Note
"Gloriously retro with an inspiring eloquence and grace." –Vintage Guitar
"This is the real deal. The Cash Box Kings take from '40s and '50s post-war Chicago blues, add some '20s and '30s Mississippi Delta blues and some '60s adventurism, and it all comes out as a barrelhouse, honky-tonk good time."-Goldmine
"Has all the unpretentious fun of a bar band at 2 AM, but it also has that extra freshness and energy that lifts a band out of the realm of the ordinary.  The Cash Box Kings post-war style isn't a gimmick.  This band is going places." -Blues Revue  
"The ghosts of Muddy Waters, Hubert Sumlin, Pinetop Perkins and Little Walter must be smiling as they listen to the purposefully distorted overamplified vocals, guitar and harmonica which add a gritty retro authenticity that will leave you wondering if these might be some great lost tracks from Chess Records.  Black Toppin' might be the best blues album you'll hear this year."-No Depression
"Now it's one thing to say you're interested in this old music, and even to be able to play a few of the tunes with some accuracy. But it's another thing entirely to be able to re-create the originals and write new material that's faithful to this 1940's and 50's style, and do it with authentic vitality." -Pittsburg Post-Gazette
"A textbook lesson in classic Chicago blues, (Cash Box Kings') 'I-94 Blues' is brimming with bravado and impulsive musical spirit – a can't-miss effort." -Elmore Magazine
"These guys play Chicago blues the way they were meant to be played.  The Cash Box Kings and their friends are in sync and play together with reckless abandon.  This is a great album [I-94 Blues] and it needs to be part of your collection if you want to hear the best of today's Chicago blues!" -Steve Jones, Illinoisblues.com
Videos: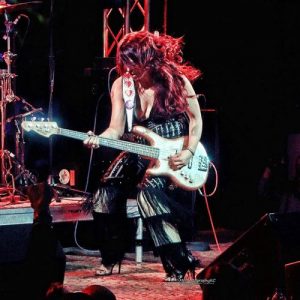 Danielle Nicole Founding member, lead singer, and bass player of Kansas City blues-rock band Trampled Under Foot, Danielle Nicole stepped out on her own in 2015 with her debut album "Wolf Den." In 2018, Nicole returns with a follow-up release via Concord Records.
"I grew up playing the blues, and the blues is still a big part of what I do.  But now I'm reaching out more and trying different things.  It still sounds like me, but I'm stretching out a lot more than I have previously."
Nicole's distinctive, inventive bass work—which resulted in her becoming the first woman to win the Blues Foundation's 2014 Blues Music Award for Best Instrumentalist, Bass—is the product of years of intensive roadwork.  Although she had no experience with the instrument when she became Trampled Under Foot's bassist, now she can't imagine life without it.
"When I started doing my solo thing," she continues, "someone asked me if I was gonna hire a bass player.  No, of course not!  I originally picked up the bass to keep Trampled Under Foot a family band, but I really fell in love with it.  It was a huge challenge, and it still is.  But I really love being part of the groove and getting to sing on top of that.  I had learned some stuff on acoustic guitar before I started playing bass, but I never really felt connected to it the way I do with the bass.  It's empowering, walking onto a stage full of grown men who can play their asses off, and it's 'OK, I'm gonna play this bass, we're gonna do this, and it's gonna rock.'"
Rounding out her band are longtime Danielle Nicole Band guitarist and multi-instrumentalist Brandon Miller, and her older brother Kris Schenebelen [Trampled Under Foot] on drums.
"I think that it's a good time for the kind of thing I'm doing," she states.  "From my years of playing blues festivals, I've seen that younger and younger audiences are getting into the blues.  I think that people want to hear authentic music again."
Videos: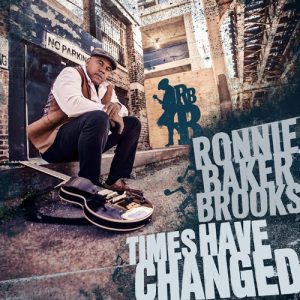 Brooks, 49, was born in Chicago, and started playing guitar around age six. At 19, he joined his father, Lonnie Brooks who by then had influenced some of the most well-known bluesman of our history: Jimmy Reed, the Fabulous Thunderbirds, Johnny Winter, and Junior Wells. For 12 years the two would tour together, putting Ronnie out front with Eric Clapton, B.B. King, Buddy Guy, and Koko Taylor.
"My whole intention, when I started with Golddigger (his 1998 debut album) and up through this one, was to be authentic enough for the older generation, but have something that the younger generation could latch onto," says Brooks.
"I try to be that bridge. With Take Me Witcha (2001), I've got a rapper on that. On The Torch (2006) we went with Al Kapone. He's a bridge. He's a bridge from blues to hip-hop. With music, it all comes from the heart.
It comes from the heart and from the soul. In blues, it doesn't matter what you're talking about, it definitely relates.
"That was my intention on this record: to build that bridge."
Videos:
(acoustic between sets near fireplace)
A Home Schooled College Graduate by the Age of 17, Taylor started playing guitar at 7, when her Brownie troop was preparing for a talent show at a retirement home.
"All the other Brownies were going to dance or tell a story," recalled her dad, who was the troop's co-leader. "She said, 'Dad, I don't have a talent.' It was right before Christmas, so I taught her a couple chords on an old guitar, and she learned a couple songs."
She played "Silent Night" and "I Saw Three Ships," and was an instant hit. The retirement home invited her back a month later. By then, she had picked up 20 songs, mostly playing by ear.
"Within a month, she was better than me," said her dad. "It's something she took to, and she stuck with it."
She played more retirement-home gigs with a playlist that older folks would appreciate, such as "You are My Sunshine" and "Tennessee Waltz." She learned whatever songs her fans requested. "I really do enjoy that music," she said. "It's not just music for old people."
She'll play anything that makes people smile.
"That always makes me happy, whether I'm performing for one person on the street or for thousands of people," she said.
Her playlist is eclectic, from blues and bluegrass to folk, gospel and classic pop. Through the years, she has learned by ear, or by picking up music at the library. Among her most requested songs at coffee houses and music festivals: "He Taught Me to Yodel." ………..Yes, she also yodels.
Taylor came to the attention of the academic world when she was 9 and started playing guitar on the streets around the Capitol in Madison, under the supervision of her parents or older brother whenever they visited her older sister at UW-Madison. She's the youngest of five children spanning an 18-year range in age.
Not long after she started busking and jamming with college students in Madison, Taylor was invited to play at the UW-Madison Union Terrace on Saturday nights, where she became a regular, and where she impressed a UW-Madison professor who suggested she take music classes at the university.
After being formally introduced to John Stropes, who heads UWM's guitar program, Taylor took a Thursday night class in the fall semester of seventh grade. At midyear, she added nine more college credits, while continuing her high school curriculum through home schooling.
Her dad, who has a bachelor's degree in physiology from UW-Madison, took several UWM classes with her. Her mom, who commutes every day to Belvidere, Ill., to work as a safety manager for Chrysler, is a regular at Taylor's nighttime and weekend gigs.
"I've been playing the guitar for 10 years," she said. "I think I'll be able to help others play better."
She wants to live on campus so she can be more involved with her music fraternity and service fraternity.
She'll keep playing at coffee houses, festivals, weddings and funerals. Her plans include teaching and performing.
"I'm taking the opportunities in front of me," she said.
Videos: